Help your customers reduce waste and tackle even their toughest cleaning and disinfecting tasks. Nonwoven fabric substrates with absorbency, durability, and chemical resistance that will hold up to vigorous use and reuse are available from nonwoven experts ANCI, Inc. – and they'll set your wet wipe product apart from the pack. Read on and discover what makes our SBPP and PET fabric substrates the standout choice for your wipes.
Forming a Unique Substrate
Grown from decades of nonwoven development, these two substrates share a number of features. They are low-lint, tear-resistant, and durable, and as a result, they will last longer than cellulose and other organic wipe materials. They're made with fine hydrophobic filaments. They hold well onto solvents and cleaners but resisting even heavy cleaning chemicals, like ethyl alcohol. There are differences between the two materials, though – so which one is right for your application?
Our spunbond polypropylene or SBPP fabric substrate has excellent moisture and temperature resistance. It's strong, holding up to vigorous scrubbing and heavy use. Its strength and toughness makes it highly versatile – useful for more than the standard wet wipe. And, any scrap or production waste is 100% recyclable.
ANCI's spunlace PET material features a softer handfeel and better drapability, providing an option with a lighter touch. It's more absorbent, yet still durable – all with a uniform appearance.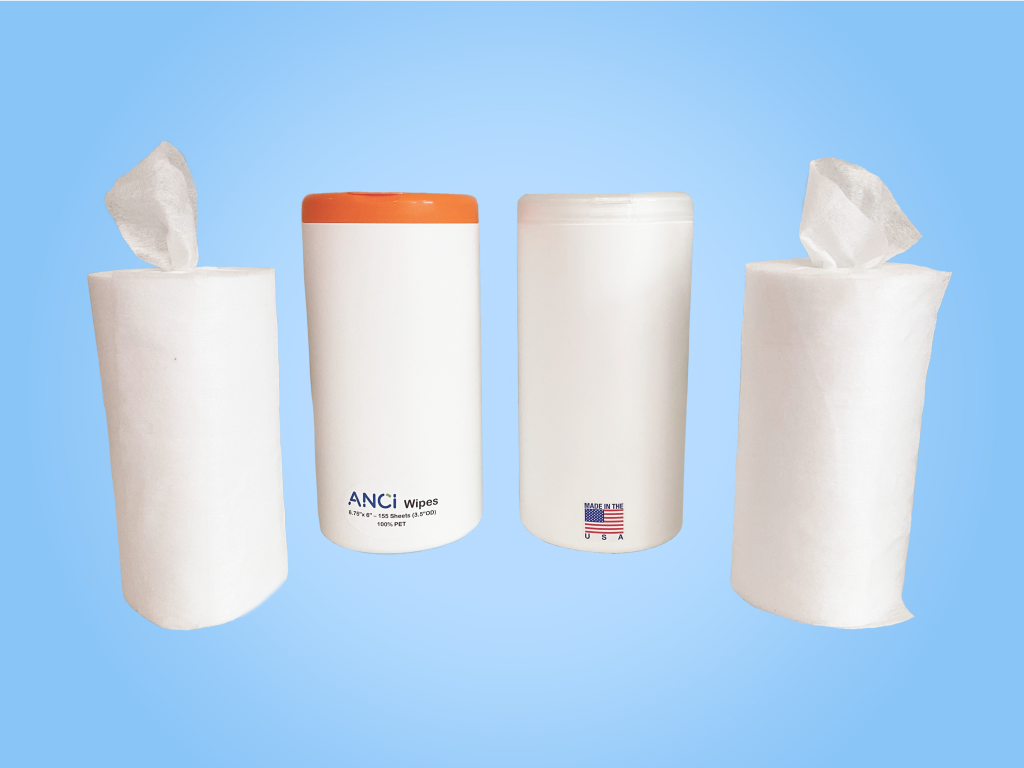 A Wet Wipe Substrate For a Variety of Needs
With an option for heavy duty and one for everyday, there's an ANCI substrate that will fit your application. These materials are suitable for disinfection and equipment cleaning in aerospace, automotive environments, gyms, nursing homes, schools, and a wide array of service industry applications. Plus, customize your roll by weight, size, and perf pattern! We offer a range of heights and weights, and can produce custom perforation patterns to dial in the size of your wipes.
You Can Rely on Decades of Nonwoven Production
ANCI, Inc. has produced nonwovens to fit the full range of needs – from packaging, to medical clothing, to agricultural drainage planes and house wrap. Our wet wipe substrates are produced with the same dedication and precision as the ANCI, Inc. products relied on in dozens of industries. Reach out and chat with us about your application, we'll produce the solution that fits your vision so your product can excel.